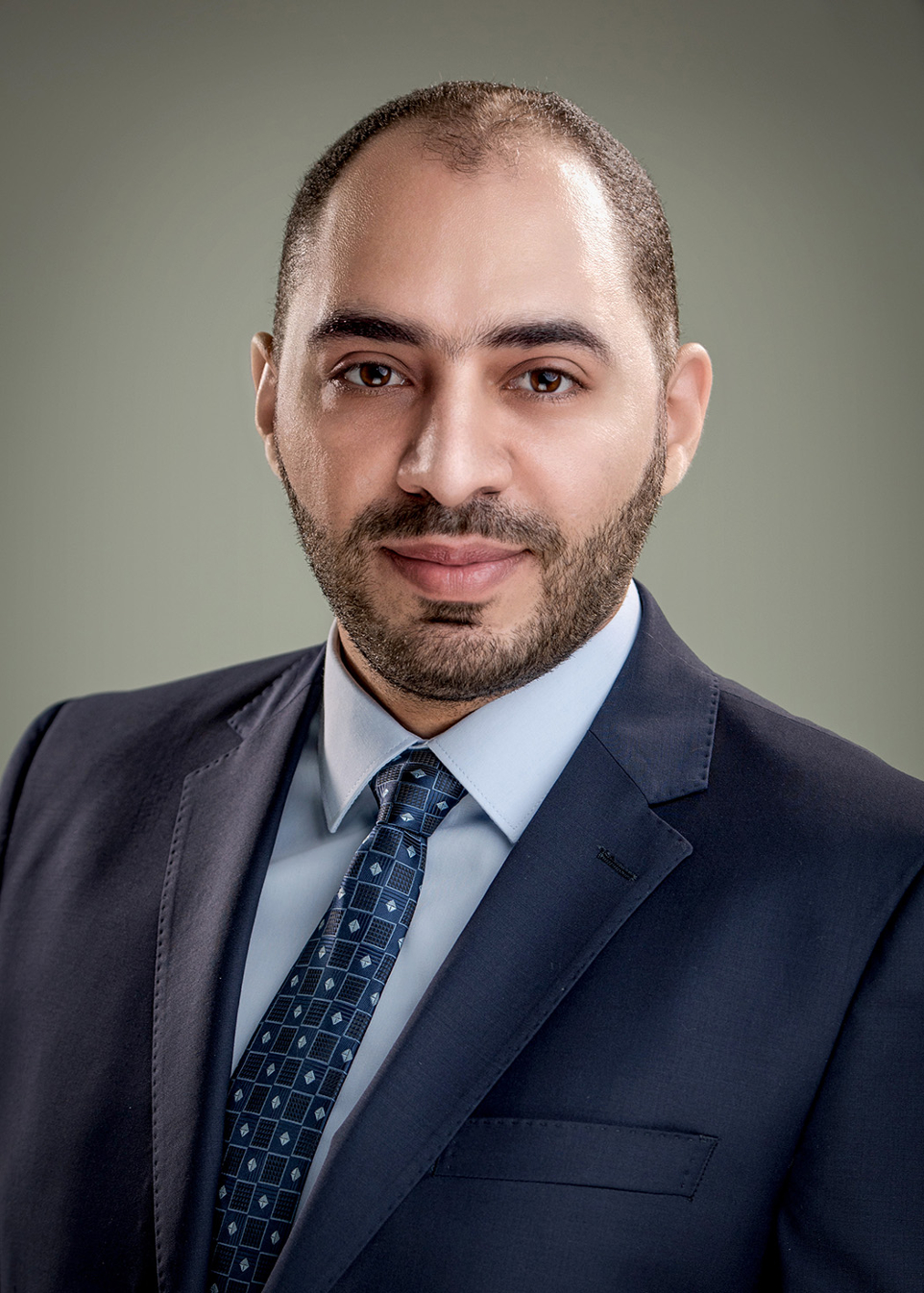 Yossef Elsherif
Odoo ERP Consultant and Projects Manager, and an expert Trainer for Odoo Implementers and Consultants
More than 10 years of experience in accounting, managing Odoo projects, and professional, consulting, and training services for companies and individuals
Yossef Elsherif is a name synonymous with digital transformation and operational excellence. With a career spanning over a decade, Yossef has created a niche, with unparalleled experience and a visionary approach to Odoo ERP.
Yossef Elsherif founded I Value Solutions in 2017.
Specializes in providing digital transformation services through Odoo ERP, and providing professional, consulting and training services to companies and businesses.
The company was expanded to the US in 2023.
His consulting portfolio boasts dozens of projects across 27 sectors. Also, it includes dozens of consultations provided to various companies in several countries in managing digital transformation and business automation, as his experience has enriched the working mechanism of thousands of employees in companies with a business volume exceeding $300 M.
From complex analysis to customized consulting, Yossef's talent for identifying best practices in ERP systems implementation is unparalleled. His strategies continually contribute to raising user efficiency and ensuring the optimal, long-term, and effective implementation of the Odoo system.
Yossef provides customized training for companies, to train and qualify their team to work on Odoo using best practices and ensuring that they obtain the greatest possible benefit using Odoo tools and functions.
Yossef also provides Project Management Office (PMO) services. This includes training for project managers and senior management on Odoo project management methodologies and skills and includes planning and establishing the work methodology for the project management office team, in addition to designing the functional structure commensurate with the company's vision and strategy.
Yossef Elsherif launched I Value Academy in 2019.
Professional training on Odoo ERP is provided through the academy, including the Odoo Functional Workshop prepared for Odoo consultants and implementers to enable them to become professionals in Odoo consulting and develop their skills and experience. It has also been developed for those wishing to change and develop their career by entering the career of Odoo Consulting, through systematic training on how to implement Odoo with best practices and start a successful professional career.
Yossef also designed the Odoo Practice Test for practicing the Odoo Certification exam, to enable Odoo learners to practice and prepare for the certification, which includes hundreds of questions constantly updated for different Odoo versions.
His innovative endeavors reflect his commitment to providing accessible, high-quality education, and have catalyzed the successful journeys of hundreds around the world.
Since 2019, Yossef has been providing training courses in the field of accounting and Odoo consultation on the Udemy educational platform and other platforms.
He provides his expertise and educational services to more than 20k trainees in more than 150 countries.
Yossef has more than ten years of experience in accounting and finance.
He studied the Certified Management Accountant (CMA) program at the American University in Cairo, then obtained the credential from the Institute of Management Accountants (IMA) in the US in 2012. He also worked as a CMA instructor for several years.
He obtained the Project Management Professional (PMP) certification from the Project Management Institute in the US in 2021.
He also obtained Odoo Functional Certification from version 13 to version 16.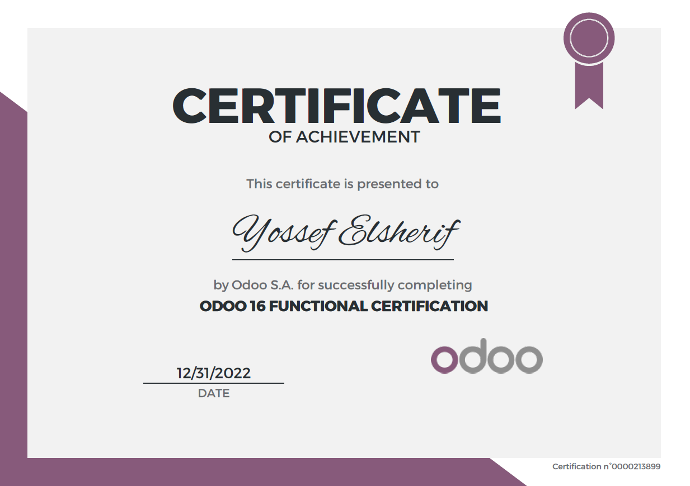 ​
Odoo Functional Certification - v16
Odoo - Dec 2022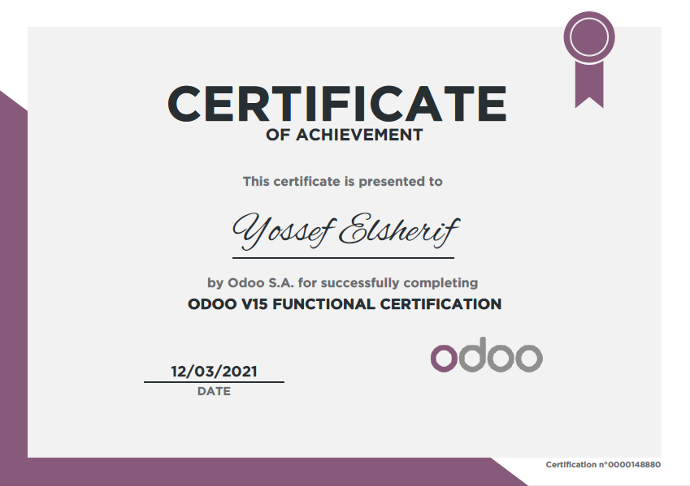 ​
Odoo Functional Certification - v15
Odoo - Dec 2021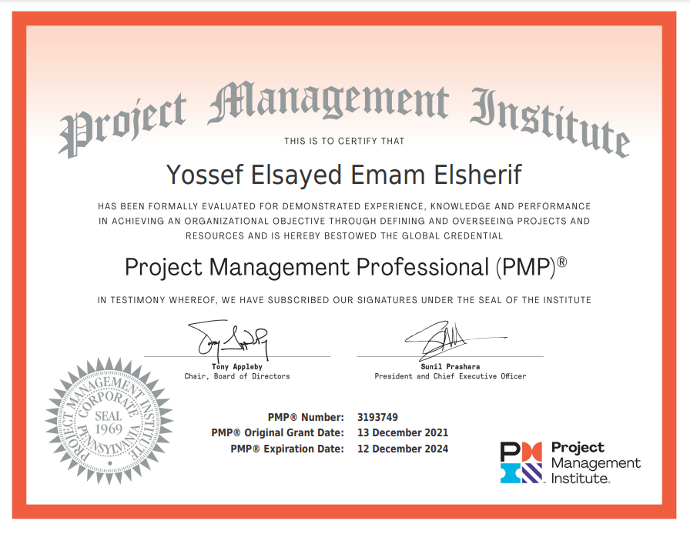 ​
Project Management Professional (PMP)
Project Management Institute - Dec 2021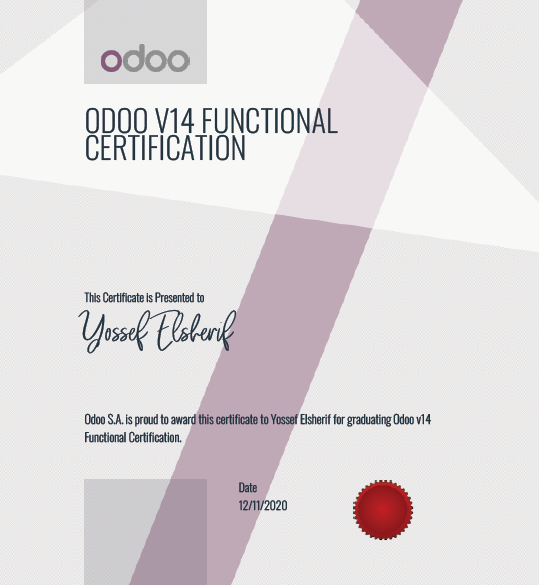 ​
Odoo Functional Certification - v14
Odoo - Dec 2020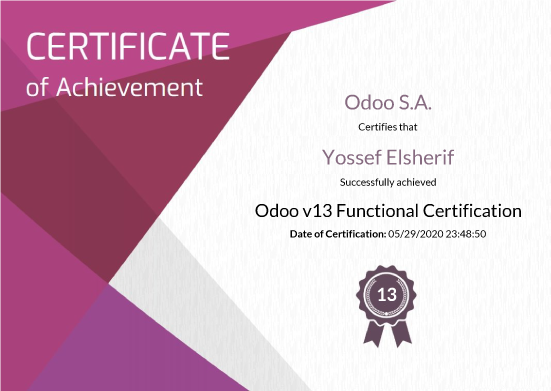 ​
Odoo Functional Certification - v13
Odoo - May 2020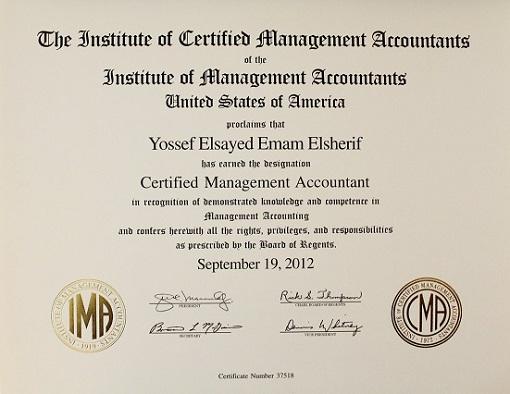 ​
Certified Management Accountant | CMA
IMA | Institute of Management Accountants - Sep 2012